With all the house stuff we've been doing around here, we felt like we needed a little "us" time.
So we headed to Vegas for a quick, cheapish vacation. We call it the "your baby just turned one-moon." Get it? Anyways, we left Jack home with my mom and my older sister Lindsey who both so kindly flew out to Utah to stay at our house with our baby while we went and basked in the sun. Awesome. We joined
Leslie and Mike McCabe
, two of our bestest friends. I grew up in Colorado with both Leslie and Mike. Leslie and I met the summer before 3rd grade and have been best friends ever since. Mike and I have been really good friends since high school! Leslie and Mike both went to school with Brandon at BYU-I, so they are one of the few friends couples that we both know and LOVE!
We stayed at hotel called Tahiti Village. It was just south of the strip and this infamous sign. So most of you can probably locate it. I recommend it.
It had a lazy river, a pool with a sandy beach, and really nice rooms (they could probably use an update in decor though! ha). We stayed in a huge suite that had its own kitchen and two separate rooms and bathrooms. Perfect for us!
View of the lazy river from above.
Awesome pool.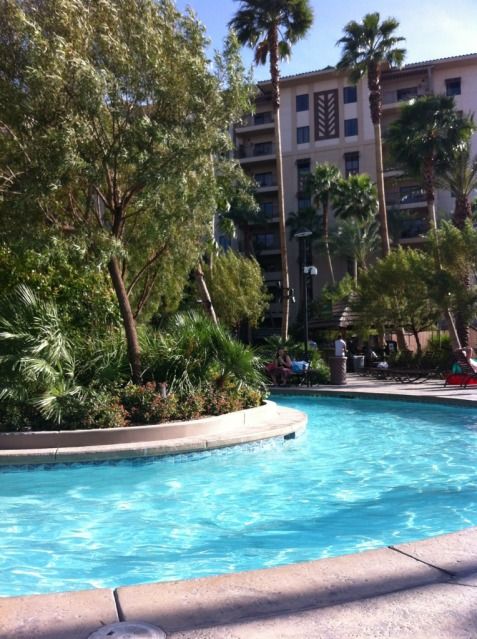 We spent most of our days sitting right here... next to the lazy river. Listening to music, catching some UV rays, and reading some literature. It was relaxing and I wish I could do it everyday.
We spent our evenings eating at different restaurants on the strip and walking around aimlessly up and down the strip. People watching is my favorite thing to do there!
We acted like tourists and stopped to take pictures. I know, I know, weird.
I bet you can't guess where I'm at?!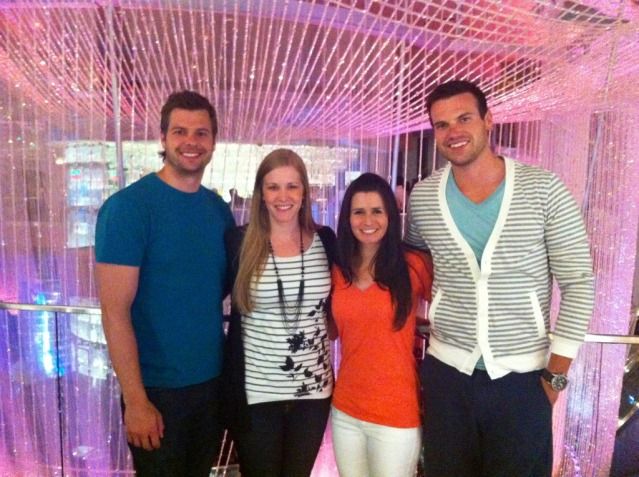 Cosmopolitan Hotel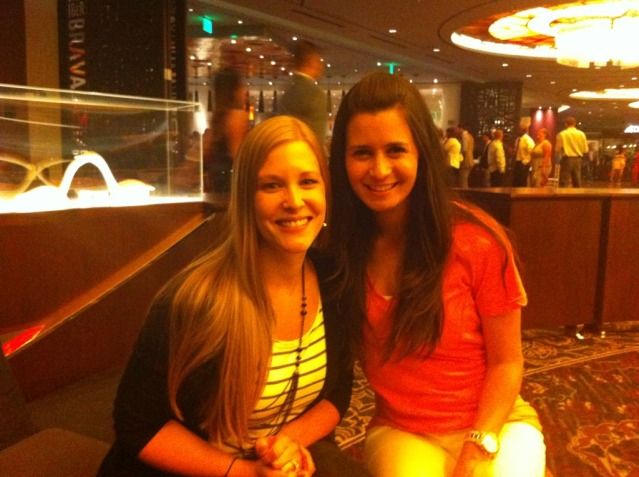 Aria Hotel
The boys needed a moment.
Yes, we often match. No, it's not on purpose.
We ate at this pizza place called Hidden Pizza. It's literally hidden. It's not advertized, has no signs, nothing. It's in a long hallway inside the Cosmo Hotel.. but it was amazing!


We were going to go to a show one night, but we all decided we would rather go shopping instead. And it was a GREAT choice! Brandon and I realized we both have never been shopping since we met. We've purchased a shirt here or there when absolutely needed, but other than that, we've been sporting 5 year old wardrobes... and it was obvious.
So we checked out the 3 story H&M store in Caesars Palace. It was huge! And very overwhelming.
Leslie and I in front of H&M.
Brandon discovered this awesome wetsuit like shirt. We made him try it on. But for some odd reason he didn't end up getting it.
The clothes I got for the price of a show ticket! Shirts, capris, a skirt, workout top and bottoms, and a swimsuit!
Brandon's clothes. Lots of shirts, tank tops, shorts, and a bathing suit (not pictured). And he still has more left over in his budget!
It was a short trip, and I was sad to leave, but was so happy to see my baby! The way home was the longest drive ever. But it seemed like Jack was perfectly happy without us. He got spoiled....
He got to eat an entire cupcake.
He got to eat blueberries with his pajamas on.
He got to eat an ice cream cone!
He got to have a shaved ice!
He loves an audience.
He helped Grandma in the kitchen.
He got to wear big boy shoes... Air Force Ones!
And he got to play peek-a-boo as much as he wanted! (video )
No we're counting down the days until we go to Mexico as a family in August! We can't wait to spend everyday together.. WITH Jack.. hanging out on the beach!
Anyone else traveling this summer?